San Diego, July 9, 2010 - IntegrityWare announces the release of a revolutionary new product SubD-NURBS. SubD-NURBS unities the diverse modeling paradigms of Sub-D (Sub Division Surface) modeling and CAD (NURBS based) modeling. SubD-NURBS quickly and accurately converts Sub-D models into a NURBS based format that can easily interface with CAD systems or CAD applications. Now your work flow can combine the conceptual design process of Sub-D modeling with the engineering, analysis, and manufacturing design process of NURBS based CAD operations. Traditional CAD systems, with their precise NURBS-based representations, are ideal tools for dealing with the engineering part of the design process (parametric design, analysis, detailing, manufacturing, etc.). However, CAD systems have not been as successful as the Sub-D based modeling tools in dealing with free-form, conceptual, or organic modeling.

SubD-NURBS is the powerful enabling tool that forges that important missing link between the two modeling paradigms. SubD-NURBS unites those two modeling paradigms to revolutionize the design process, and optimize the overall design work flow. With its ability to quickly, easily and flexibly convert virtually any Sub-D model into a NURBS format, SubD-NURBS supports a work flow where conceptual designs can be quickly generated using simple Sub-D modeling operations to quickly demonstrate the design concept. That design can then be modified with Boolean operations, 3D logos, fillets, shelling, or other advanced surface construction tools. The results can be analyzed or sent to rapid prototyping machines. And in the world of SubD-NURBS, you can then go back and edit the original Sub-D model and propagate the CAD operations (Booleans, fillets, etc.) onto the modified version of the Sub-D conceptual design to facilitate quick design revisions. You can even quickly generate a new rapid prototype of the design for customer viewing. With SubD-NURBS, you will no longer need to dream of this type of ideal work flow. You can make it a reality with SubD-NURBS.

SubD-NURBS can convert virtually any Sub-D model into a precise NURBS representation that can be read into virtually any CAD system. It can even handle Sub-D models containing triangular polygons. SubD-NURBS creates high quality surfaces, with a minimum of G2 continuity. So the resulting CAD models are accurate, high quality representations. SubD-NURBS is flexible; with SubD-NURBS, you can control the quality of the resulting surfaces. If you are worried about creating heavy surfaces, you can reduce the number of surface knots or tangency strength through the modification of a few simple parameters. The resulting CAD models can be modified with Boolean operations, filleting, or other typical CAD operations.

SubD-NURBS is a high performance library that software developers can easily integrate into their 3D modeling systems. Whether you have a Sub-D based modeling system, or a NURBS based modeling system, SubD-NURBS is the powerful tool that can expand the value of your modeling system to leverage the best of both worlds. Sub-D based systems can leverage SubD-NURBS to export to CAD systems, or to integrate CAD functionality into their system (especially when coupled with our SOLIDS++ geometric modeling kernel). CAD systems can utilize SubD-NURBS to import 3D models from various popular Sub-D modeling tools. Either way, SubD-NURBS can greatly increase the value of your existing 3D system.

SubD-NURBS comes from the IntegrityWare "Gem technology" initiative. The goal of this initiative is to produce high quality, innovative, optimized technology solutions to solve specific, important geometric modeling problems.

Example image of an organic human head model converted into a precise NURBS model. Click on image for a high resolution version.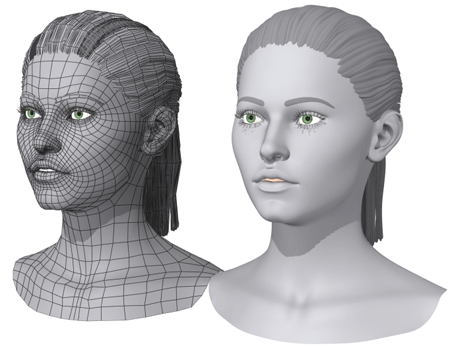 About IntegrityWare
IntegrityWare Inc. (www.IntegrityWare.com) is a company that specializes in high performance, high quality geometric modeling software. Founded in 1996, IntegrityWare Inc. has provided software libraries for successful applications in Optics, CAD, Measurement, Automotive, Data translation, Geological, Architecture, NC, and Design Visualization.

IntegrityWare Contact
David Gill, President
858-592-8866
Email Contact